First videos after accident in Tavnik: Car completely smashed, 2 people dead, one badly injured
Two persons who were in a VW Golf died at the scene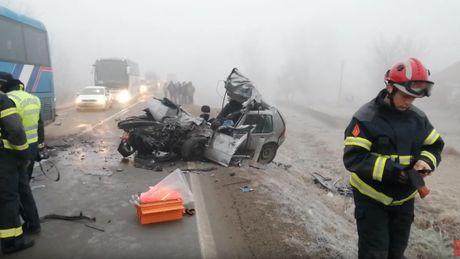 Foto: Večernje novosti/G. Šljivić
In a serious traffic accident that happened under still unclear circumstances in the early morning at about 6.30 am today in the town of Tavnik on the Ibar Highway, on the Kraljevo-Preljina section of the road, two people were killed, while another sustained serious and life-threatening injuries.
It is assumed that the accident happened when a Golf with Montenegrin license plates, moving towards Preljina, attempted to overtake a Kraljevo license plates truck - to directly collide with an bus of the Kragujevac carrier Vihor, that was coming from the opposite direction.
Two passengers in the Golf died on the spot, while one woman, who was also in the car, was seriously injured. She has been taken by ambulance to the Studenica General Hospital in Kraljevo and doctors are fighting for her life. None of the passengers in the bus were injured.
Due to the accident, traffic on this section of the Ibar Highway came to a complete halt.
The main causes are assumed to be unadjusted speed in low visibility conditions due to thick fog.
Video: Drive carefully because there is only one path
(Telegraf.rs/Vecernje Novosti)