Communists removed this detail from Belgrade's Main Railway Station. Now it's shining once again
The coat of arms of Serbia was removed after the Second World War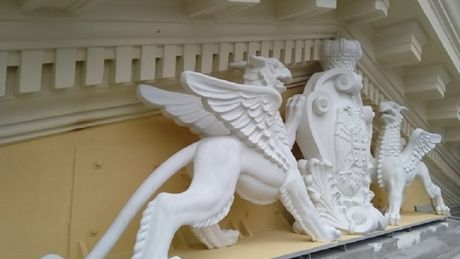 Foto: Zavod za zaštitu spomenika kulture
As of today, the restored facade of the former Main Railway Station building in Belgrade is once again adorned with a pair of griffins holding up a cartouche with the coat of arms of Serbia.
After the end of the Second World War, this composition was removed from this representative edifice, which had been there since the station was built.
The architectural composition is dominated by the central classicist projection of the main entrance with the triangular tympanum, that contains the two griffins holding a up a cartouche with the coat of arms of the Kingdom of Serbia, featuring the crown on top. Immediately after the first railway connection was established in Serbia in 1884, the building of the main railway station was constructed in Belgrade according to a conceptual design of the Austrian architect Von Flattich, that was then worked out by Serbian architect Dragisa Milutinovic. At the time of the construction, the building was one of the most monumental edifices and symbols of Serbia's capital.
This was one of the first railway stations in Serbia, whose design included a specific architectural program and content adjusted to European technical achievements, clearly showing that the Kingdom of Serbia for the first time linked the East and the West with its railways. The building was designed in the spirit of academism as a representative edifice with a dynamic floor plan. With its specific solution, the building is a testimony to the technical, architectural and general development of Serbia in the last decades of the 19th century. Due to its cultural, historical and architectural values, this building was declared a monument of culture in 1983.
(Telegraf.rs)