Dacic arrives in China: "You didn't fear NATO bombs, my visit shows we're not afraid of the virus"
This visit is a confirmation of extraordinary strategic relations and steely friendship between Serbia and China - said the head of Serbian diplomacy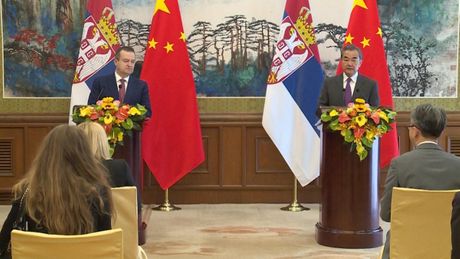 First Deputy Prime Minister and Foreign Minister of the Republic of Serbia Ivica Dacic, who is on a visit to the People's Republic of China, today met with State Advisor and Foreign Minister of the People's Republic of China Wang Yi.
"I would like to thank my old friend, brother and fellow minister Wang Yi for inviting me to visit China again and for the warm hospitality that I and my delegation received in this beautiful city, as is always the case during our visits. It's a great pleasure to be here, but at the same time I feel great sorrow for coming to beautiful Beijing at a time of the greatest challenges facing China in its recent history," said the Serbian foreign minister - who is the first Serbian minister to visit China since the coronavirus outbreak began.
He said his visit is a confirmation of extraordinary strategic relations and steely friendship, but is also the result and an indicator of solidarity and of the full confidence that Serbia has in China's ability to combat this "demonic disease" - as Chinese President Xi Jinping called the virus.
"We deeply sympathize and follow with concern all the news of the sacrifice of the Chinese people and the leadership in the fight against this invisible but powerful enemy. We follow with admiration the superhuman efforts and measures that are unprecedented anywhere in the world to further prevent the spread of the virus, not only in China, but also beyond your borders, which the whole world should view with deep respect," said Dacic.
"Today, I was able to witness for myself the measures being taken, and the minister informed me about everything. We are pleased to hear that there is a decrease in the number of patients at the national level, an increase in the number of people who have been cured, and that there are fewer and fewer new cases of the virus spreading outside Hubei province. It all indicates that the spread of this infection is slowing down, that it will be stopped and we want China to defeat this disease as soon as possible and in that, it has our strong support," he said.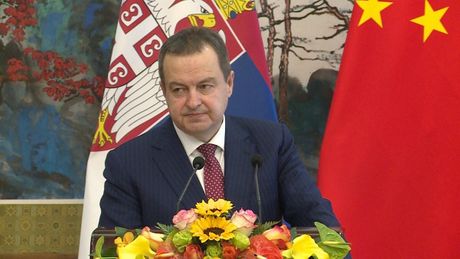 Serbia is a small country, he said, but we don't turn our back on our friends in trouble, and stressed that true friends are there when things get hard.
"You were not afraid of NATO bombs when Serbia was bombed, your diplomats were killed by the bombs meant for the Serbians, so my visit shows that we are not afraid of the virus. We wish our friends all the best and you have our full support. In line with our capabilities, we will send assistance to China in the shape of medical equipment, the government of Serbia has already made a decision about this and it will be implemented in the coming weeks," said Dacic.
He conveyed President Vucic's message to President Xi Jinpig and the Chinese people, which he also conveyed to Minister Wang Yi during the Munich meeting, saying that we stand in solidarity and support the Chinese leadership in overcoming this great misfortune. He said the president expressed his willingness to visit China as previously announced, on April 15 and 16 to attend the Summit of China and the countries of Central and Eastern Europe.
"We look forward with great joy to your president's new visit to Serbia, it is of historical importance for us and we are very much looking forward to it. Also, my colleague Wang Yi and I agreed to establish regular forms of communication and meetings between our two ministries, which is to have regular bilateral meetings every year," said the minister of foreign affairs.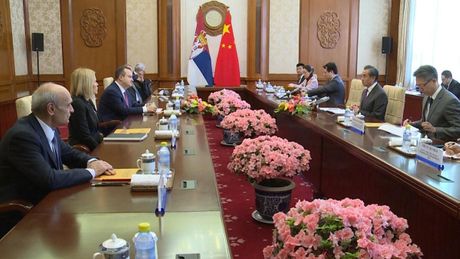 Our bilateral relations are excellent, it is a strategic, steely friendship, he said, stressing that this is the right name for the relationship between Serbia and China.
He recalled a number of joint bilateral activities, a large presence of Chinese companies in Serbia, which is of great importance for the development of Serbia, and that we are one of the few countries that has the privilege of having a visa-free travel agreement with China.
"I wish to thank China for its principled support for the sovereignty and territorial integrity of my country when it comes to resolving the problem of Kosovo. At the same time, Serbia's support for China's policies and China's views on Taiwan, Tibet, Xinjiang is firm, and we support that in all international meetings, as well as the principle of one country, two systems when it comes to Hong Kong and Macao," he said and stressed that he was extremely happy to be able to express solidarity and point out that China can count on Serbia.
"I am certain this disease will not harm China and the plans you have - marking the centenary of the Communist Party of China and the centenary of the formation of the People's Republic of China."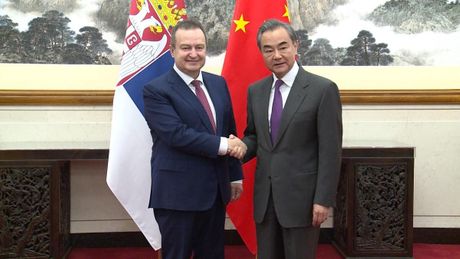 Dacic said that Serbia is proud to have China as a friend and that China must know that it can always count on Serbia.
"We are a small country, but we are convinced that only an independent country that takes care of its national and state interests and rejects the principle of meddling in the internal affairs of others, can represent a significant factor in international order," he said.
"We never succumb to outside pressure, we condemn politicization of this disease that is happening in Western media and is used to further anti-Chinese positions. We all need to help China defeat this disease because that saves the whole world. We have a saying, 'you can tell who's a hero in tough times' - but also who your friends are when it's hard, and that's why I'm here," the foreign minister said at the end of his address after the meeting with his Chinese colleague.
(Telegraf.rs)
Pošaljite nam Vaše snimke, fotografije i priče na broj telefona +381 64 8939257 (WhatsApp / Viber / Telegram).