Serbian parliament could soon get first hijab-wearing member
Her becoming a member the National Assembly is one of the most talked about topics in regional media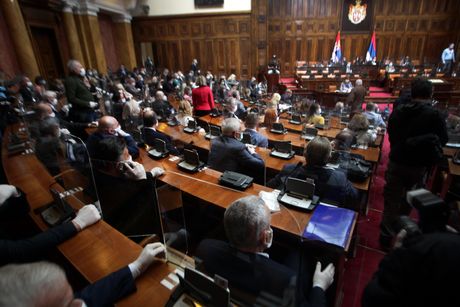 There will be 12 deputies from the Sandzak area towns, Doctor Misala Pramenkovic from Novi Pazar among them, in the future convocation of the Assembly of Serbia - unless there are significant changes in election results (after repeated voting in some polling stations).  Otherwise, she will become the first woman in the history of Serbia who will wear a hijab in the country's parliament.

Her becoming a member the National Assembly is one of the most talked about topics in regional media.
Professor Doctor Misala Pramenkovic was born in 1980, and works as a professor of Islamic sciences in the "Gazi Isa-beg" madrasa. She is the vice president of the Party of Justice and Reconciliation (SPP), led by Muamer Zukorlic, and became a city councilor in May 2016.
So far, while advocating the principles of her party, Pramenkovic has dealt with protection and affirmation of the family, the woman and the child.
Zukorlic: Significant cultural and civilizational step forward
"As for the MP Doctor Misala Pramenkovic, she is third on the list and it was to be expected that she would be elected. What drew the public's attention is that she is under the hijab. From my point of view, that is nothing strange, people elect representatives from their ranks," says Zukorlic.
According to him, in the cultural-civilizational sense, this represents a significant step forward and sends an important message.
Prvi put u historiji Narodna skupština Srbije će imati narodnu poslanicu sa hidžabom.

Dr. Misala Pramenković je treća na listi Akademik Muamer Zukorlić - Samo pravo. U njenim riječima vidim sopstveni ponos, jer je dostojna predstavljati veličinu žene kakva je Bošnjakinja. pic.twitter.com/OLzqwvZIiu

— Aida Hasić (@AidaHa9) June 21, 2020
"I already received congratulations from Kuwait and some Arab Muslim countries. That caught the eye more than some other (election) results. I saw that they understand it as the capacity of Serbia to enable all its citizens to be represented in the National Assembly, regardless of religious, ethnic and other differences," said Zukorlic.
He recalled that the position of his party is that all citizens should have the same chances, both women in the hijab and women without the hijab, that is, both women and men, stating that they have advocated for that through their previous political activities.
The leader of the SPP also says that Misala Pramenkovic is a doctor of science, a distinguished professor and a mother of four children, an example of a woman who managed to reconcile her family life and career and be politically active.
(Telegraf.rs/Tanjug)