Dumpsters, police cars set on fire, broken store windows, garbage: Belgrade after protest
A protest was held in Belgrade last night against the latest anti-coronavirus measures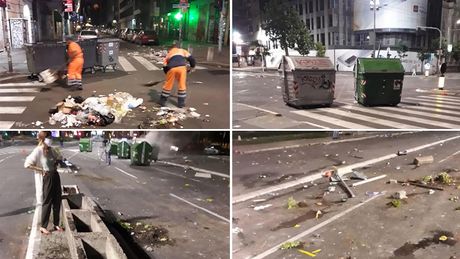 Dumpsters set on fire and garbage strewn on the street, broken traffic signs, destroyed flower boxes, stones, police cars set on fire, several broken store windows - that's the scene after last night's protest in Belgrade.
Police in riot gear dispersed the demonstrators a little after 2 am on Wednesday, first those in front of the Serbian Assembly and then groups in Nikole Pasica Square, Pionirski Park and Kralja Aleksandra Boulevard.
Even after two hours, the entrance to the House of the National Assembly was guarded by a large number of police officers.
Police formed cordons in the streets leading to the Assembly to prevent a possible return of demonstrators.
In addition to members of the police, there were ambulances, firefighters and journalist crews in the streets of the capital.
Deputy Mayor of Belgrade Goran Vesic posted on Facebook about some of the chaos left behind by who he said were hooligans destroying and burning Belgrade last night.
"Those who did not participate in elections would now like to take over the National Assembly by force, their mouths are full of Kosovo and Metohija and they are thousands of kilometers away from Kosovo and Metohija, where these 'heroes' don't dare to go. The hooligans who were destroying Belgrade were organized by radical right-winger Srdjan Nogo, while those inspiring them were Djilas' best man and political guru Mladjan Djordjevic and their personal bishop and 'businessman' who became famous yesterday by saying he wanted to demolish the temple of Saint Sava - Bishop Grigorije," Vesic wrote, and added:
"While the state is fighting to save the health and lives of our citizens from coronavirus, this political group is pursuing an ultra-right policy of burning and destruction of institutions and city and state property, which, I am sure, was condemned last night by all citizens of a normal and decent Serbia."
(Telegraf.rs/Tanjug)