All Covid hospitals in Belgrade are full, patients sent to Pozarevac, Smederevo and Mladenovac
"If it continues like this, the healthcare system will be in trouble," said Loncar
Video:

Stevanovic: 150-200 new patients admitted to Belgrade hospitals every day
The capacities of Covid hospitals in Belgrade have been filled, so last night more than a dozen patients were transported to hospitals in Pozarevac, Smederevo, and Mladenovac, Minister of Health Zlatibor Loncar said today.
After a meeting with directors of Covid hospital, he told journalists that everything was being done to find new capacities, and he assessed that, if the number of new cases continues to be as it is now, "the healthcare system will be in trouble."
The minister also stated that the hospital in Sabac will receive more Covid patients, as well as that the one in Cacak will enter the Covid system.
"Some of the patients from the hospital in Cacak who are not positive for Covid will be transferred today to the Military Medical Academy (VMA), which together with the Clinical Center of Serbia functions as the Emergency Center," said the minister.
He urged citizens to show unity and respect anti-coronavirus measures so that the healthcare system can withstand and provide adequate help to everyone.
Temporary hospitals that where patients with lighter sympotms will be cared for will be opened in Kragujevac, Nis, and in the Cigota center on Mt. Zlatibor.
As soon as a bed is freed, it's immediately occupied again
The director of the Clinic for Infectious and Tropical Diseases, Goran Stevanovic, said that 150 to 200 new Covid patients need hospital treatment in Belgrade every day, while 10 percent of them require admission to intensive care units.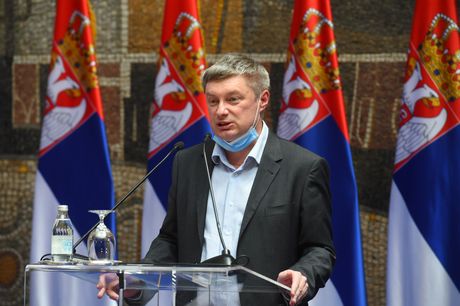 He explained that now, patients with a more severe clinical picture are arriving in hospitals, whose treatment takes longer. He added that healthcare institutions in the Covid system in the capital discharge 60 to 70 patients a day, which means that Belgrade is short of about 100 beds in Covid hospitals each day.
"The capacity of hospitals in Belgrade is almost 100 percent full. When a patient is discharged, they are replaced by a new patient," said Stevanovic.
Covid hospitals are being filled quickly in other parts of the country as well, so if anti-coronavirus measures are not respected, as he said, the capacities of new hospitals that enter the Covid system in Sabac and Cacak will be filled quickly, too.
"After that, we will not be able to receive patients and provide them with minimum of care, let alone adequate treatment," said Stevanovic.
He recalled that the Infectious Diseases Clinic in Belgrade has been receiving patients for six months now and that healthcare workers are tired.
"We don't have a cure for Covid, we don't have a vaccine, the only thing that can happen is to stop the spread of the disease in the population, and we can achieve that with preventive measures," he said.
(Telegraf.rs/Tanjug)