Sad photos as floods threaten: Potpec Lake covered in garbage, our disgrace floats in that water
The locals fear that water will flood their homes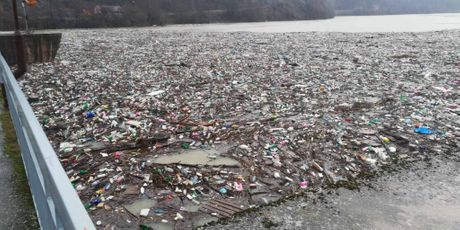 "This morning, the Lim River water level crossed the emergency flood defense mark, which resulted in a flood in Prijepolje, but also in a large amount of garbage washing up in the nearby town, Priboj, a tourist flagship. Perhaps the announced cable could have stopped this?," the Facebook page Priboj asked, along with posting the photos from the lake.
Trenutne sa Lima, na jezeru Potpeć, kod Ribarskog naselja, uzdanicie turizma u Priboju.
Možda je ovo najavljena sajla mogla da zaustavi?

Posted by Priboj on Четвртак, 31. децембар 2020.
The situation is also critical in the settlement of Zalug in Prijepolje, where the Lim flooded last night, and the locals are afraid of an even bigger outpouring and entry of water into their homes.
Although the water level is currently stagnant, there is still the danger that the Lim could cause more flooding.
"On the Lim, near the hydrological station Prijepolje, in the next 24 hours, the water level will be stagnant and less fluctuating and will be moving above the limit of emergency flood defense marks," said the latest alert from the Hydrometeorological Institute (RHMZ).
This morning, in addition to the settlement of Zalug in Prijepolje, the stadium in Brodarevo, in Jalija, a part of Ivanje and Kamenogorski settlements, a part of Sarampovo all got flooded, as firefighters and members of the police rescue brigade remain on alert and ready to intervene if necessary.
Video:
The flood in Prijepolje: The Lim floods settlements and farms
(Telegraf.rs)
Pošaljite nam Vaše snimke, fotografije i priče na broj telefona +381 64 8939257 (WhatsApp / Viber / Telegram).