Plane with Tesla's image on first flight to New York City: "That's our most profitable destination"
The new Air Serbia aircraft arrived in Belgrade on April 24 around noon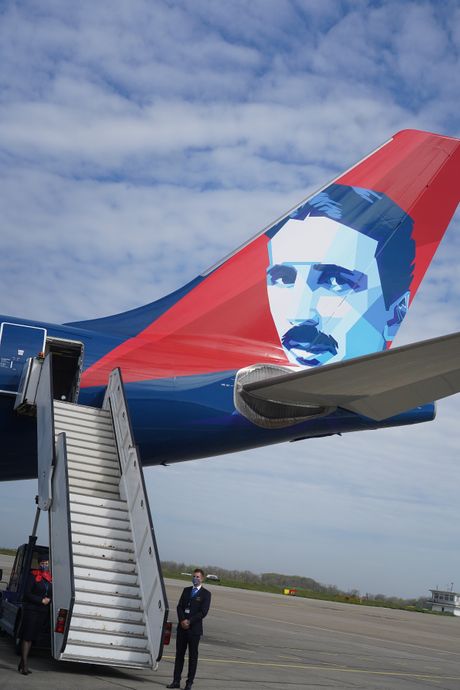 A few days ago, an unusual plane belonging to Serbia's national carrier Air Serbia landed in Belgrade, with the image of famous scientist Nikola Tesla painted on it. Tesla had found himself in the US, which is why there is symbolism in this aircraft connecting the Serbian capital and the Big Apple.
This is an Airbus A330, a wide-body passenger jet that had Tesla's image painted on for eight days, in three shifts, by about en people. Even the concept of the new menu is inspired by Nikola Tesla's diet. According to the company, 22 different colors and about 250 liters of paint were used during the painting process.
Today, Prime Minister of Serbia Ana Brnabic was attending the ceremony to see off the new Air Serbia plane on its first flight to New York.
"We are proud of Air Serbia, and we are very grateful for everything. During 2020, that company brought back 10,310 citizens of the Republic of Serbia who were stranded in airports around the world (due to the Covid pandemic)," said Ana Brnabic, and added that "we could rely on the national airline."
"As Ambassador Godfrey said, Air Serbia also helped foreign citizens. Thank you for representing us in the world, for getting stronger," the prime minister further pointed out.
She said that Air Serbia"was always there, day and night, on weekends, to transport passengers, vaccines, (medical) equipment, ventilators."
"Today, I will not talk about economic and tourist benefits, but only about how much Air Serbia meant to our country during 2020, and how much it continues to mean to us. Not only to the Government of Serbia, but to the citizens, doctors...," said Ana Brnabic.
When asked by a journalist about the public debt and profitability of flights to New York, Brnabic said that she was "not interested in that at this moment, because Air Serbia saved us, when everyone closed their borders."
"If it weren't for them, our people would not have been able to return to their homes and families, nor would we get the vaccines so quickly," the prime minister added. "If necessary, I will with all my heart be in favor of providing all the necessary support, of course, guided by the principle of free competition and in accordance with EU standards."
Special menu
"We are honored to have the opportunity to present this plane, which will depart for New York in a little over four hours," Air Serbia CEO Duncan Naysmith said this morning.
According to him, establishing direct flighta to New York, almost five years ago, was a turning point. So far, over 320,000 passengers have been transported on the New York route by Air Serbia. When it comes to the impact of the Covid pandemic on the company, he said that the financial report for 2020 is being prepared, which should be submitted to the APR (Serbian Business Registry Agency) within the deadline.
"New York is this company's most profitable destination," he added.
Naysmith added that the new plane will further strengthen ties between the region and the United States. He also mentioned a special menu prepared for the economy and the business class. He said it was inspired by Tesla's school days, his childhood, and later his life in the US.
"Energy, frequency, vibration are the three key words that are related to the interior of the plane, and they have to do with Nikola Tesla," the CEO noted.
"The focus of Air Serbia now is a return to normalcy. We currently maintain 28 routes, before Covid there were 62. We are also considering expanding to China, Canada, the United States in general, we welcome competition, and remind you that we have a very important role in the region. By the end of May, we plan to fly to New York four times (a week), for now we fly three times. We believe that our business offer is one of the best in the region," said Naysmith.
US Ambassador to Serbia Anthony Godfrey joked and said that "Nikola Tesla was an American by choice" and that he "wants to explain himself before he gets pelted with eggs." He further pointed out to all other Serbian athletes, artists and scientists who have been success in America, but are proud to say where they come from.
He added that all Americans are proud of their heritage, whatever it may be.
Manufactured in 2008, the new plane is a year younger than the previous jet of the same type in Air Serbia's fleet. The new addition's previous operator was the Russian national carrier Aeroflot. It is registered as YU-ARB.
Video:
Air Serbias new plane with the image of Nikola Tesla painted on it has landed in Belgrade
(Telegraf Biznis)
Telegraf.rs zadržava sva prava nad sadržajem. Za preuzimanje sadržaja pogledajte uputstva na stranici Uslovi korišćenja.