Ministers Stefanovic and Shoigu meet in Russia: Cooperation between two countries at historic high
According to Shoigu, Russia is interested in further development of bilateral cooperation and assistance in strengthening the capacities of the Serbian Army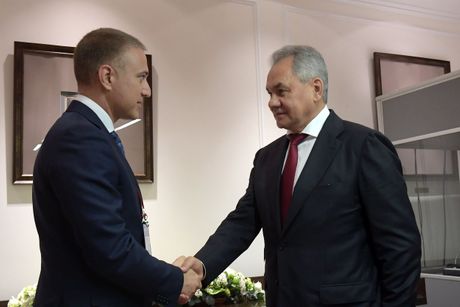 Deputy Prime Minister and Minister of Defense of the Republic of Serbia Nebojsa Stefanovic met on Wednesday with Minister of Defense of the Russian Federation General of the Army Sergei Shoigu, at whose invitation he is currently in the Russian Federation and participating in the 9th Moscow Conference on International Security.
Minister Stefanovic pointed out that cooperation between Serbia and Russia in the field of defense is at a historic high, while Minister Shoigu said that Russia is interested in further development of bilateral cooperation and assistance in strengthening the capacities of the Serbian Army, the Serbian Ministry of Defense announced.
At the start of the meeting, Minister Stefanovic pointed out that he was extremely glad that a lump of Serbian soil from the Cemetery to the Liberators of Belgrade is stored in the museum complex Path of Memory, located near Moscow, and that this is an important symbolic message about our peoples' common struggle against fascism.
"Serbia will participate in the construction of a monument to the Serbian soldier, which you proposed, and it will, of course, be a great honor for us to be a part of that. When it comes to our military cooperation, it is progressing at a really good pace, and this year we are planning a total of 91 joint activities. Generals Pankov and Fomin were in Serbia recently to attended an exercise in which the Russian Spetsnaz (special forces) participated along our special units and were really excellent working together," said Stefanovic, who on this occasion invited Minister Shoigu to visit Serbia.
Minister Shoigu recalled the common history of Russia and Serbia and our peoples, and especially their contribution in the fight against the fascist evil.
"I consider the Republic of Serbia to be pursuing an independent policy today. I would like to remind you that only strong armed forces guarantee the independence of a country. We are committed to continuing the development of bilateral cooperation between our countries and providing assistance in strengthening the capacities of the Serbian Army," said Shoigu.
He welcomed the participation of the Serbian Army in the International Army Games 2021, which, as he assessed, is not only a competition, but also a display of top training and preparedness of members of armed forces. He also said that joint exercises of the members of our two armies, in addition to demonstrating their training, also confirm, on the ground, our friendly relations.
In a statement for the media after the meeting, Stefanovic said that participation in the 9th Moscow Conference on International Security is important for the delegation of the Republic of Serbia.
"It is an opportunity to openly discuss all security issues and challenges that are happening, not only in Europe of which we are a part, but also in all areas of the world. I had the opportunity to talk with Minister of Defense General Shoigu about strengthening our cooperation. The cooperation between Russia and Serbia is extremely good, I would say it is at a historic maximum, but we are trying to make it even better in the military and military-technical field going forward," said Stefanovic.
He also stressed the importance of joint training and military-educational cooperation, which is some of the focus of the cooperation of any army that is thinking about its improvement.
(Telegraf.rs)
Pošaljite nam Vaše snimke, fotografije i priče na broj telefona +381 64 8939257 (WhatsApp / Viber / Telegram).