Saracen: Serbia is politically and economically closer to Germany and the European Union than to Russia
You can't sit on two chairs that are miles apart - Saracen said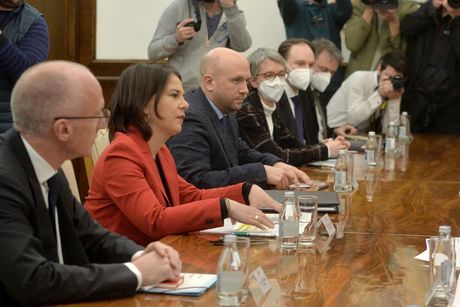 The German government's special envoy for the Western Balkans, Manuel Saracen, says that in economic and political terms, the society in Serbia is closer to Germany and the EU than to Russia.
"Our financial support and investments are higher. We are also interested in the economic and social development of this country. It goes without saying that the funds we give and our engagement with the candidate countries are greater than with the countries that are, for example, part of the Eastern Partnership," Saracen said in an interview with Danas before arriving in Belgrade.
He also pointed out that it was "quite clear" that after Russia's attack on Ukraine, the pro-Russian position is incompatible with the candidate status.
"You can't sit on two chairs that are miles apart. In addition, I believe that Serbia knows it is in its interest to get rid of all dependencies on an unscrupulous regime as soon as possible," he said, adding that there are repercussions regarding the decisions of economic entities, depending on whether a country is irreversibly pursuing a European course or not.
He also says that it is a question of risk and benefit assessment.
"Since the beginning of the Russian invasion of Ukraine, businessmen have been asking whether Serbia, as an investment destination, has joined the European positions and whether it will do so in the future. That is why it is crucial that Serbia takes its position now," Saracen said.
Asked whether he believes that Serbia will impose sanctions against Russia, Saracen said that during her visit to Belgrade, German Foreign Minister Annalena Baerbock said unequivocally that Russia's attack concerns all of us and that in such a situation no one has the right to stand aside and that it is not enough to just condemn crimes.
Asked what would happen if Belgrade, choosing between the EU and Russia, chooses Moscow, he said that the EU will always accept any democratic decision based on the free will and still strive to maintain good relations, such as, for example, it is trying to have with Armenia.
"On the other hand, I don't see who in Serbia would be really interested in the pro-Russian position," Saracen noted.
He also said that he was surprised by a recent poll which showed that for the first time, the majority of Serbian citizens do not support their country joining the EU.
"I sincerely believe in the EU as a peace project and in our common future, together with Serbia as a full member. The figures show that the European perspective must become more tangible again," Saracen said.
"On the other hand, I am convinced that the citizens of Serbia are very much aware of the benefits they would have from EU membership, which is a symbol of peace, rule of law, sustainable prosperity and huge development potential for people and companies. Development in all Central European EU member states vividly testifies to that," Saracen pointed out.
(Telegraf.rs)
Telegraf.rs zadržava sva prava nad sadržajem. Za preuzimanje sadržaja pogledajte uputstva na stranici Uslovi korišćenja.