Vreme čitanja: oko 2 min.
Hill: We have a problem with Kurti, Serbia is a constructive and an increasingly better partner
Vreme čitanja: oko 2 min.
We are very interested in improving relations with Serbia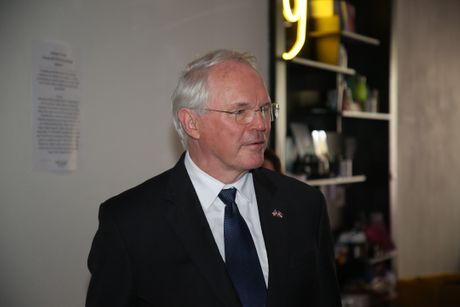 US Ambassador to Serbia Christopher Hill said that the West has a problem with the prime minister of the provisional Pristina institutions, Albin Kurti, who does not want to accept proposals for de-escalating the situation in Kosovo and Metohija, although Belgrade is a constructive and an increasingly better partner.
In an interview with Voice of America, Hill said that it is a question "whether the US can count on Kurti as a partner" and that there is a fundamental problem with him because he is not willing to accept the proposals of the US and the European Union.
He added that he would leave the decision on that to the US Embassy in Pristina. He said that Kurti will have to make "some changes" if he wants to count on the US as a friend and partner.
"I don't recall ever seeing such deep divisions in the relations between Pristina and Washington," Hill said. He stressed that Quint member countries share concerns about Pristina's actions. He added that "it is very important that the special police withdraw from municipal buildings" in the north of Kosovo and Metohija and that the Albanian mayors should leave the municipal buildings, while the third question related to new elections in the north of Kosovo and Metohija is "a bit more difficult."
Hill also said that it quickly became obvious that with such a low turnout (in previous elections), "you have no basis to continue." He pointed out that the formation of the Community of Serb Municipalities (ZSO) is important "because the lack of trust in the international community stems from the fact that there is no ZSO".
"From the Serbian side, it was clearly stated that the formation of the ZSO is important, which is still a problem for Mr. Kurti. Because everyone else understands that it is necessary," stated the US diplomat.
Asked by a journalist whether he expects Serbian President Aleksandar Vucic to recognize so-called Kosovo, Hill said he thinks Vucic is ready to do what he said, which is to achieve normalization of relations. "It is very important and it precedes all future stages of cooperation," Hill pointed out.
He said that the US is counting on Vucic as a good partner, and that he and his government have been that, in this process.
"We hope it will continue like that. We would like him to do what he can to de-escalate the situation and we see that it is already being implemented. That's very positive," he said.
Hill stated that there is an understanding with the authorities in Serbia on how to move forward, and that he hopes that the people of Serbia will also understand that the US and the EU want much greater cooperation at the political, economic and security level.
"We are very interested in improving relations with Serbia - at least as much as the people and government in Serbia are interested in that. We feel that Serbia is becoming an increasingly better partner to us," said Hill.
(Telegraf.rs)
Telegraf.rs zadržava sva prava nad sadržajem. Za preuzimanje sadržaja pogledajte uputstva na stranici Uslovi korišćenja.