Pretraga
Oko rezultata (
0.20

sekunde(i))
prikaži još
za date parametre ne postoji rezultat
7.1000 SERBS DIED IN THIS PLACE: Telegraf discovered the mystery of secret cemetery in Czech Republic! (PHOTO) (VIDEO)
Mausoleum Jindřichovice, the place of the same named concentration camp in WWI, was forgotten for almost 50 years. 40.000 prisoners went through it. The oldest priest had 92 years, and the youngest grandson had eight years
Only 145 kilometers from the Czech Republic capital - Prague, near the border with Germany, there is a place called Jindřichovice, which is very important for the Serbian history during the World War One, and small number of people know about this place. 
GALLERY OF PHOTOS WHERE 7.100 SERBS LOST THEIR LIVES IN WORLD WAR ONE - Jindřichovice
Jindřichovice, during the Great War, was one of the biggest concentration camps of Austro-Hungary. 40.000 people went through it, compared to the other camps there were here: Russians, Italians, Romanians, Lithuanians, while the greatest number of prisoners came from Serbia. 
Among the mentioned nations, only military personnel was held, but when it comes to Serbian, there were many civilians as well.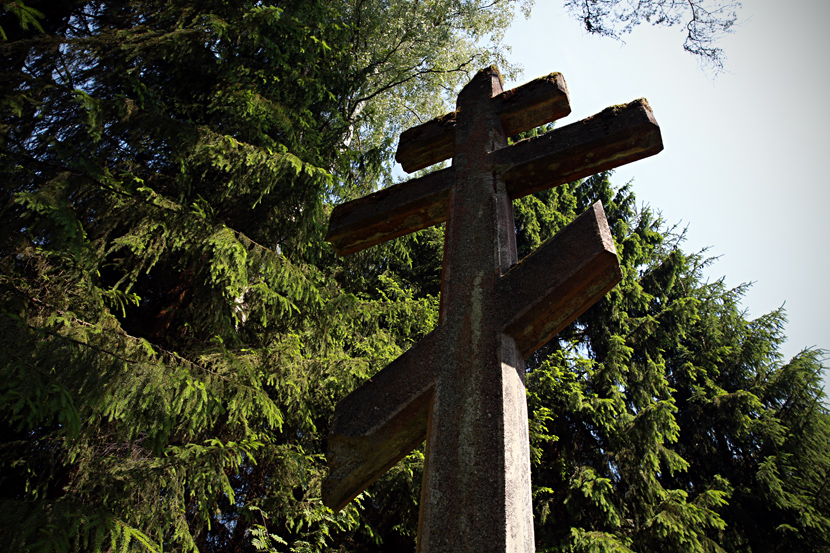 Telegraf crew headed to Jindřichovice, where liturgy is held every year before Vidovdan (Serbian national and religious holiday), in order to honor all the late ancestors.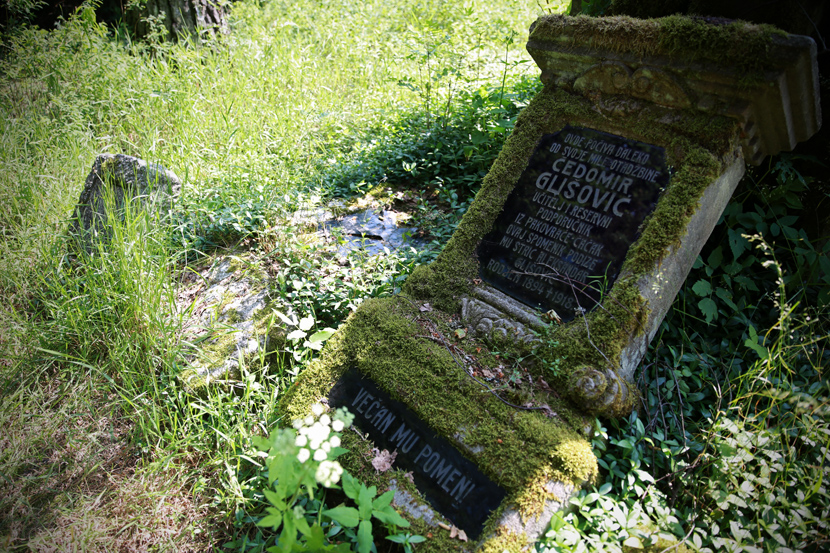 Camp Jindřichovice existed during the World War I in a period between 1915 to 1918. War prisoners from all over Serbia were brought there, but mostly from Sumadija and Valjevo region. They were all forced to hard manual labor.
Some worked on building the water tank, some were working in the quarry, while others were distributed on the jobs like paving the roads or building bridges. The hardest job was working on building the chemical factory in Sokolovc, the city which was 30 kilometers away from the camp, and people would go to there and back every day, on foot.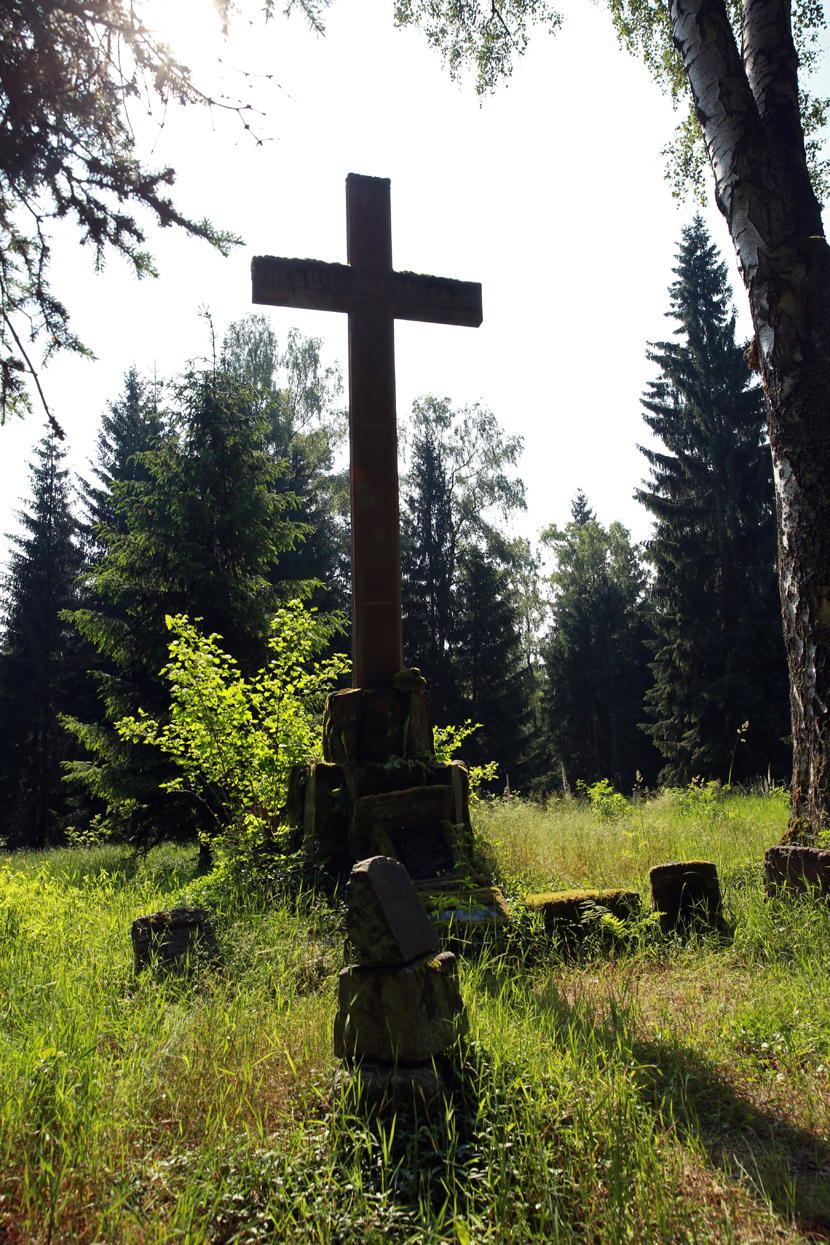 Work conditions in the camp were terrible. Even tho Jindřichovice differed from the rest of Austro-Hungarian camps where guards did not kill the prisoners, they were starved with small rations of food, bad hygiene, and the tuberculosis and dysentery were wide spread, and sometimes, it happened that 40 people died in the same day. Because of that, every day, precisely at 15:00 there was a procession with bodies of the deceased to the nearby tomb, which was in the woods where they were lied down. It often happened that a friend is carrying a friend in the coffin, and someone else would carry that same man to the same tomb again. Nevertheless, what was probably the saddest is that the bodies were taken out of the coffin before they were lied down, in order to use the coffin again tomorrow for someone else.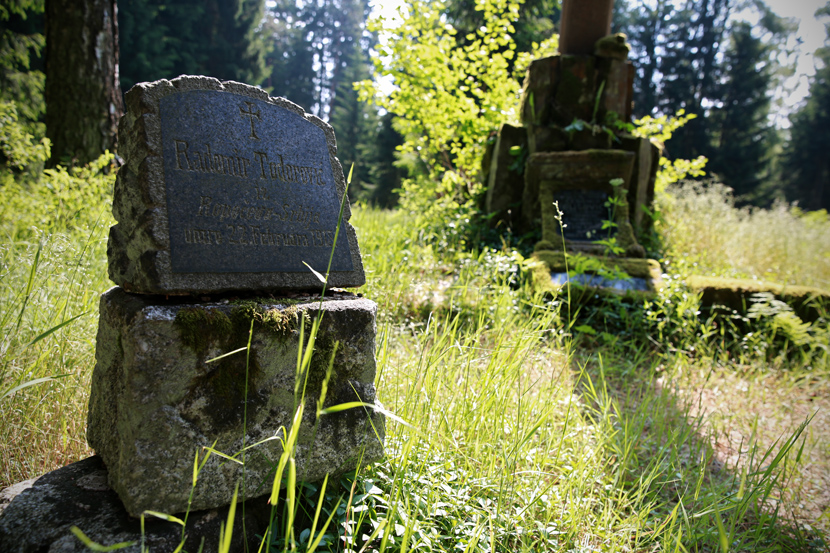 The oldest prisoner was a priest had 92 years, and the youngest was his grandson had eight years when he passed away.  
When the war stopped, in the place where people built a water tower, former president of Czechoslovakia ( from 1st January 1993 was divided into two states, Czech Republic and Slovakia) Tomáš Garrigue Masaryk decided to give that part of the Jindřichovice land to his good friend, king Aleksandar Karadjordjevic so he can build the mausoleum in memory of the fallen ancestors.
It was determined for mausoleum to be built and it was ordered for all the bodies of the fallen Serbs on the land of Czechoslovakia, but also Netherlands to be carried to the mausoleum. Exhumation of all of the parts of Czechoslovakia was in 1926 and 1927, while the remains of the Serbs died in the areas of Netherlands  numbered 88 who died between 1918 and 1919, and carried over in 1938.
The remains of the 7.100 Serbs were put in the same number of smaller wooden coffins which numbered, and they were gathered and settled by priest, and later a guardian of this holy place, Milivoj Crvcanin.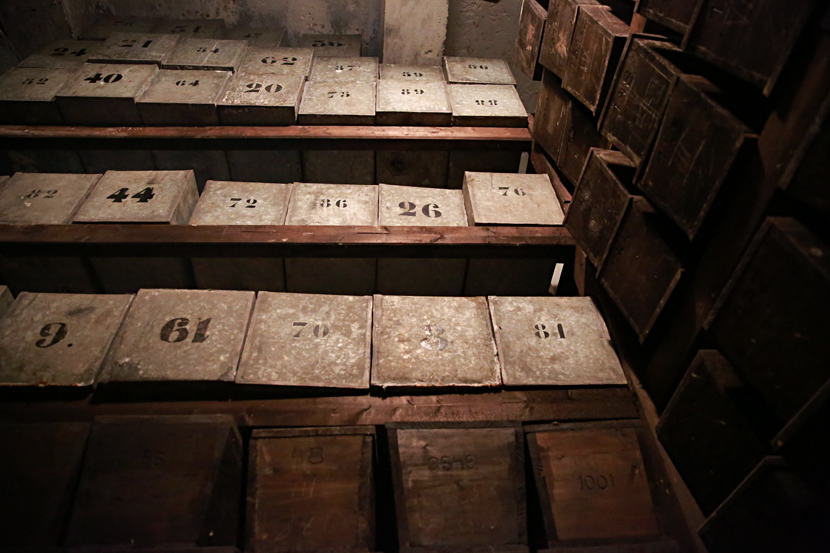 Except the prisoners from our lands, there are remains of the 189 Russian in the mausoleum.
There are two legends about this place, as well about out history. Soon after the assasination of princ Ferdinand by Gavrilo Princip, his oldest daughter married one member of the aristocratic family Nostic, who were settled in Jindřichovice. One story goes that she married so "she can watch the whole time the suffering of the people who murdered her father", and the other, more acceptable was, she wanted to live in the luxury of her husband.
Kingdom of Yugoslavia was taking care of the mausoleum in Jindřichovice until the World War II, however, the last liturgy was held my bishop form Nis Dositej and everybody forgot about the Serbian sacrifices, and even that there was a camp on that spot where Serbians died while being tortured.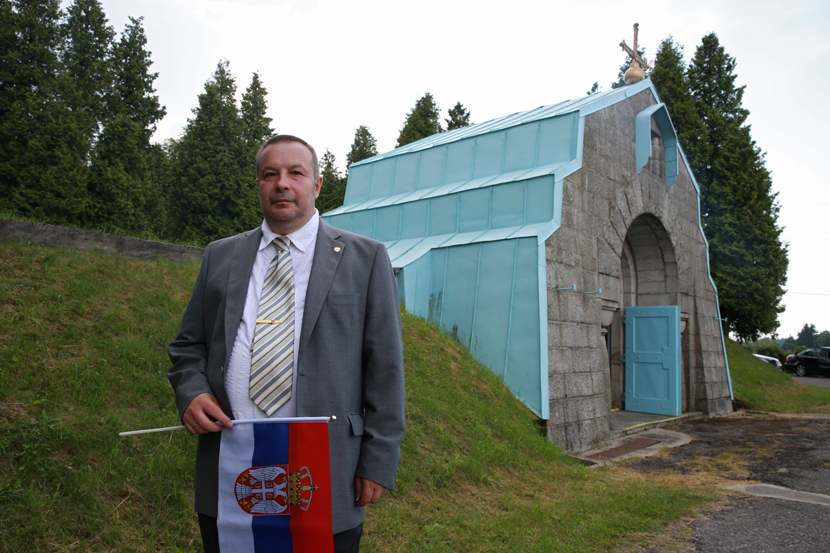 I was like that until 1995, when Dejan Randjelovic from Serbia, who moved to a resort Karlove Vari in Czech Republic, he walked through the woods where bodies of the deceased were once laid, and he came accros mark for the fallen Serbian fighter.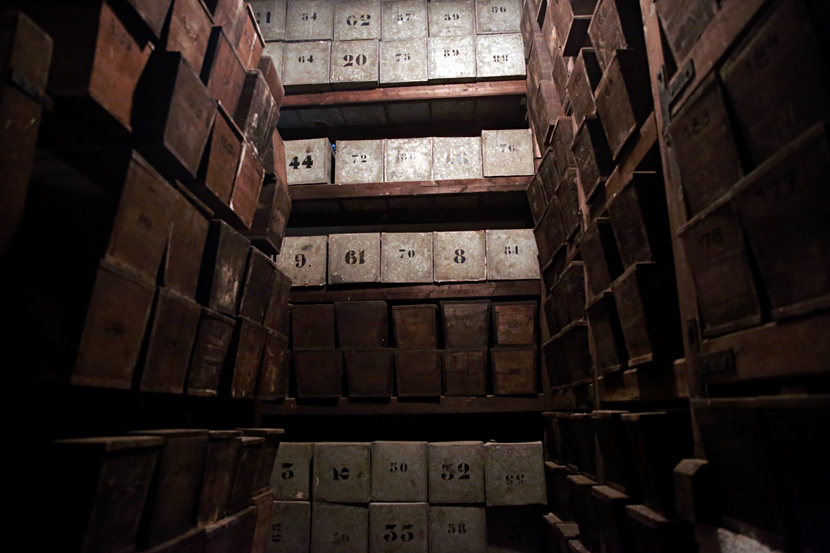 - For five years i have been coming to this place to gather mushrooms but i did not know. I found an interesting stone once and i wanted to see what's written , and i was surprised when i saw it was written on Serbian, on Cyrillic, it said that a man from Cacak lies here - said Dejan for Telegraf, and he adds:
- I came to Jindřichovice to try to find out if anyone knows where the mark for the Serb came from. I entered a pub and the locals told me about the concentration camp and mausoleum. 
From a professor from Belgrade, who was visiting mausoleum, Dejan heard that in the beginning war, Dimitrije Tucovic was in this camp, who was rescued from the camp by Spanish socialists with the help from Red Cross, and he returned to Serbia, although this claim was never confirmed.
Since then Dejan Randjelovic, with the help of our embassy, is taking care about Serbian military cemetery in Jindřichovice.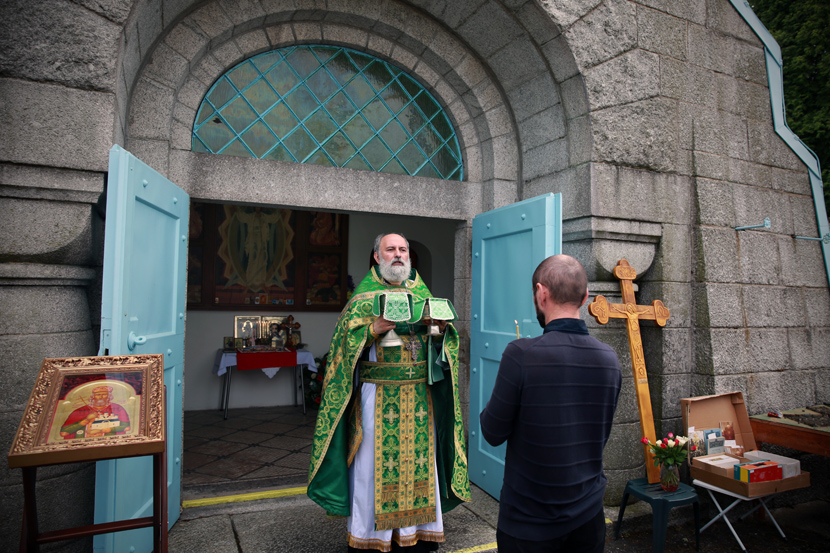 Priest Srdjan Jablanovic, who was appointed for the priest in 2001 and came to Czech Republic, has been serving liturgy for 15 years in this holy place.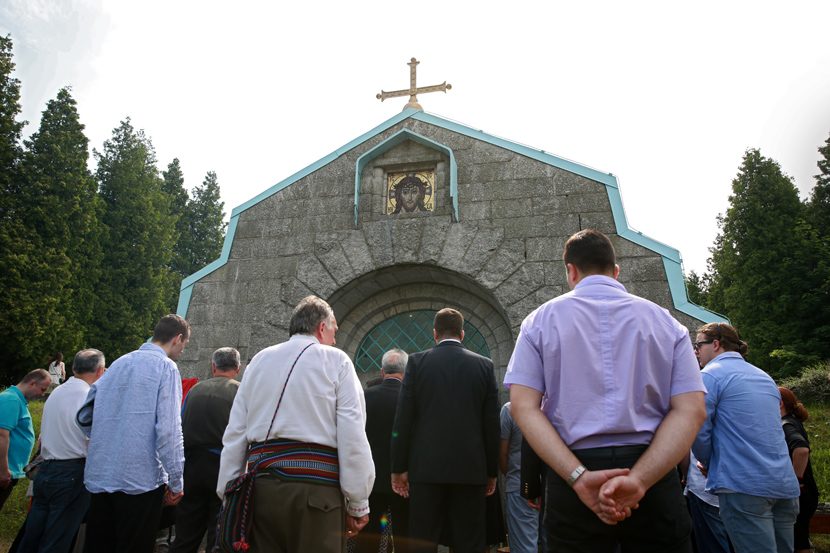 -Serbian military cemetery means a lot to Serbian and its history. The remains of 7.100 Serbs lie here, and little is known about Jindřichovice. I keep mentioning that this is our north Gazimestan and north Zejtinlik and thank God more and more people know and come to this place - said father Srdjan.
This year, on the liturgy that was held prior to Vidovdan 25th Jun, there were tens of people who came to honor our forefathers, but also state secretary of the Ministry of Labour, Employment and Social Issues Dragan Popovic, consul of Serbian embassy Stefan Tomasevic, ambassador Vera Mavric, and more employed in the Serbian embassy, and general consul of Russian Federation in Karlove Vari Mihail Nikolaevic Ledenin.
- It is our intention to make visible all the important bits for Republic of Serbia and Czech Republic, and those are the important places that testify about the horrible deaths of our people and are important for our history, as well as for our future. Our generations and future descendants must be acquainted with it. One of those places is mausoleum in Jindřichovice, concentration camp who was the biggest by the number of casualties from the WWI - said for Telegraf consul Stefan Tomasevic, and adds:
- Respect of the history of your own people is the only guaranty for the future, so the visiting of the mausoleum in Jindřichovice represents pilgrimage and a special class in history for all future generations, and for all those who didn't have the chance to hear about these historical facts which are of great importance for Serbian people.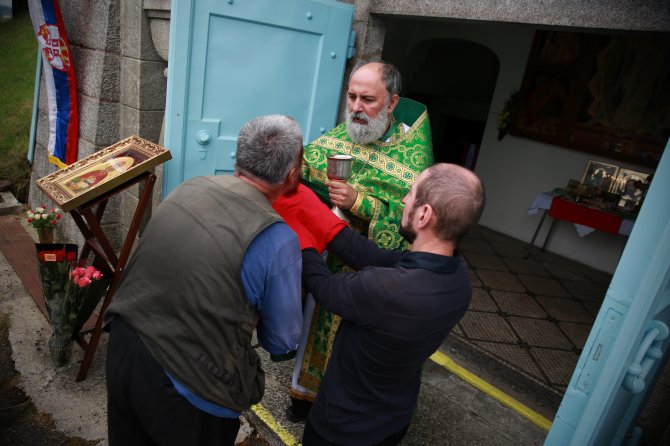 Until now, Serbs had no clue that major number of people died in the land of Czechoslovakia and that there is this kind of mausoleum. Serbian embassy wants to point out to this place in the future for everyone coming from Serbia to Czech Republic so they can come and visit this historical monument.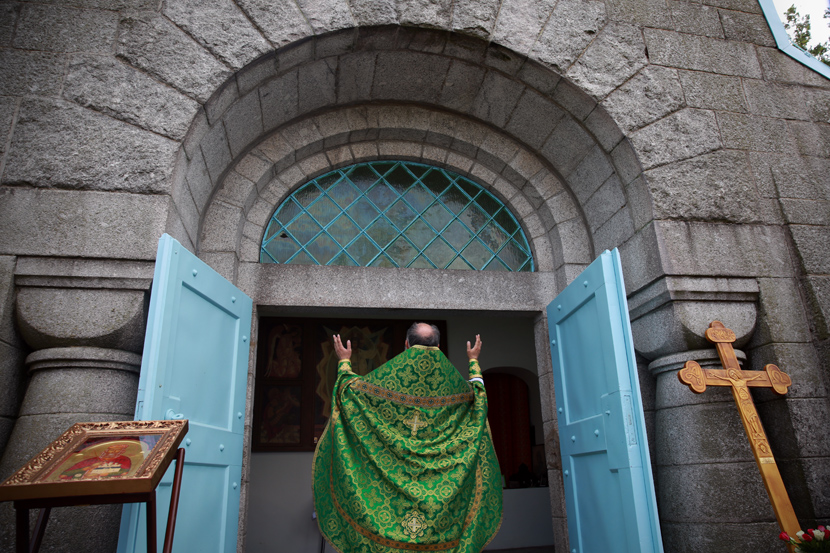 - Every year we mark the 28th Jun with liturgy and say the importance of victims, and all of the people of Serbian origins, and also other people like Czechs and Russians come to honor the dead. Besides that, on every 11th November we lay a wreath on the Truce Day in WWI in the name of embassy, and i go there on other occasions, whenever our people wants to visit the mausoleum - said consul Tomasevic.
Telegraf crew attended the liturgy held this year prior to Vidovdan, to be precise on 26th June. When we walked down to the crypt, no one was left feeling indifferent. The feeling that there are 7.000 boxes around us with the remains of our forefathers, roused shivers in us. However, besides having shivers down our spine and being very cold, in each of us there was unusual feeling that we are in a place where our people endured many sufferings.
Besides mausoleum in Jindřichovice, in Czech Republic there is a mausoleum in Olomouc with the victims of WWI.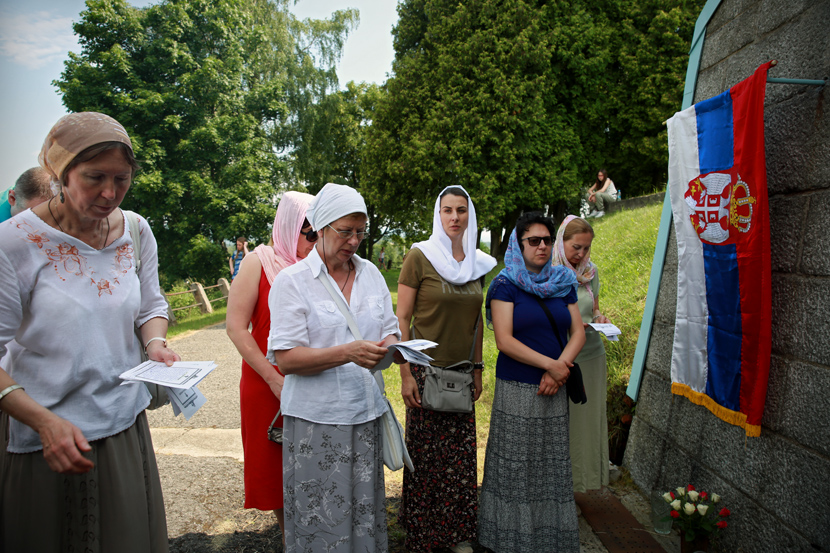 - Serbian community in Czech is small in numbers but has quality. I can be proud to be here for almost two years, and since i am here, Serbian cultural society "Radost" came to life, it has two folklore groups, and besides that, a Serbian school that can be attended by Serbs and Czechs alike, supplementary education is held in the Home for National Minorities in Prague - said Tomasevic.
Otherwise, besides increasing interest for mausoleum Jindřichovice and the activity of the group "Radost", by the end of the year a tourist guide should be published through Serbia on Czech language. Numerous Serbs working in Prague, but also other parts of the country, are working tirelessly to promote Serbian culture and history.
There is one more important place for Serbian history in Czech Republic, and that is Terezin, the place where Gavrilo Princip was held. Though, we will write about these stories more in some other day, when we will deal about the sacrifices and life of Serbian people in Czech Republic.
(Telegraf.co.uk / Marina Bojic)