Vucic: Unless compromise is reached, we cannot recognize Kosovo's independence (PHOTO) (VIDEO)
The Serbian President met with US Senators Johnson and Chris Murphy in the Presidency
Serbian President Aleksandar Vucic met with US senators Ron Johnson (R) and Chris Murphy (D) in Belgrade today to discuss the Belgrade-Pristina dialogue.
After the meeting, the interlocutors addressed the public.
"An agreement between Belgrade and Pristina implies that both sides lose equally, in order for both sides to gain equally," Serbian President Aleksandar Vucic said today after speaking with Senators Ron Johnson and Chris Murphy.
"That is the only way to reach an agreement," stressed Vucic.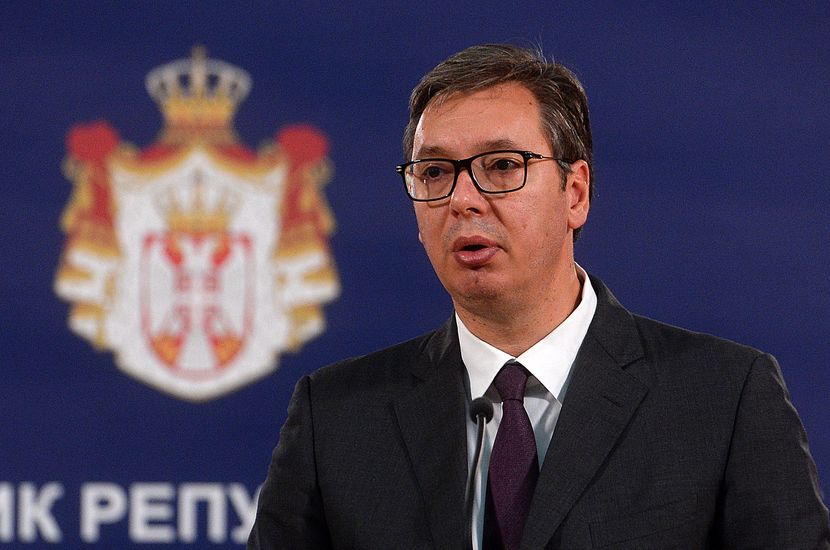 He told reporters after the meeting that he conveyed to the US senators an unequivocal stance that Serbia expects the abolishing of taxes and wants a compromise, but that a deal can't be about fulfilling one side's goals, without the Serbian side getting anything.
"This should be an agreement in which both sides lose equally, in order for both sides to gain equally," Vucic said during a press conference.
Vucic said that Belgrade is ready for any conversation because that is healing, adding that improving relations between Serbs and Albanians and establishing lasting peace would be of great benefit to Serbs and Albanians, as well as to all peoples living in the region.
He thanked the senators for their efforts to find a solution for continuing the dialogue.
Vucic also said that Serbia's interest is to intensify high-level political dialogue and that relations between the two countries need to be based on a partnership.
"It is in Serbia's interest to improve relations," said Vucic, adding that relations in many areas have significantly improved lately, although there is still room for improvement.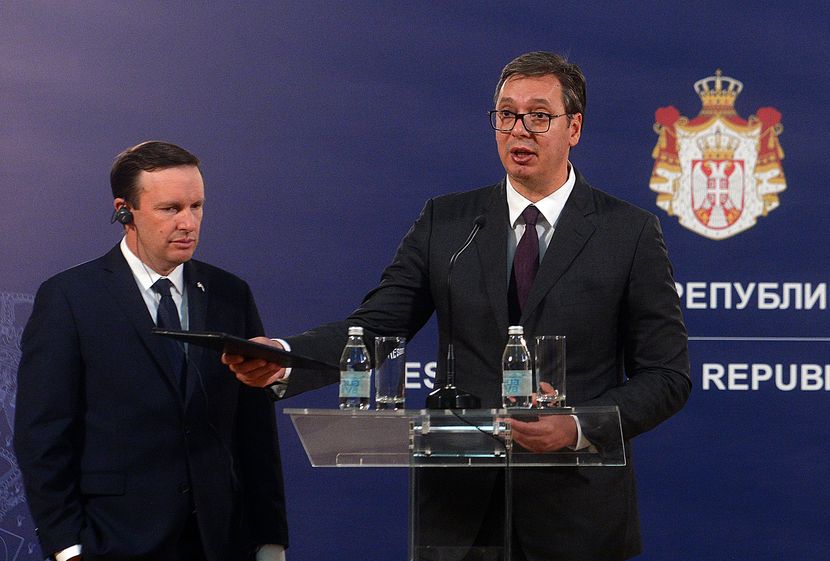 He said he was grateful to the senators for visiting and engaging in the region and for their desire to preserve stability and achieve lasting peace.
"I am convinced that the desire to improve relations between Serbia and the US is mutual," said Vucic, adding that there was also talk about economic cooperation that will greatly benefit the citizens. He emphasized that it's important to increase trade.
Vucic said that regional stability was also discussed during the meeting, and that Serbia will continue to pursue a policy of preserving peace and respect the rights of others.
He said he thanked the senators for supporting Serbia in achieving full EU membership. He also thanked Senator Johnson for passing on his invitation to US President Donald Trump to visit Serbia and added that there is mutual desire to improve relations between the two countries.
"We had certain topics, about concrete cooperation, and we believe that some new chapters and topics will be opened there," said Vucic.
He pointed out to good military-economic and civilian cooperation, especially with Ohio, adding that cooperation could be even better because there is room for improvement.
Vucic stated that the senators also told him how satisfied they are with the economy in Serbia, and how much they would like certain areas of the rule of law to change for the better.
"I heard them and pointed out the fact that we can improve many things, change and do much more in the coming period," said Vucic.
He also announced that the marking of the 75th anniversary of Operation Halyard.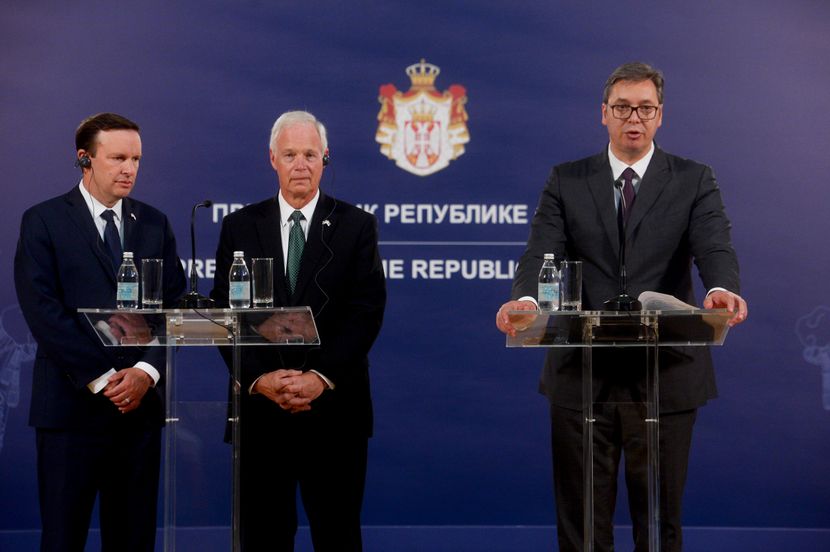 "IT'S LIKELY NOT EVERYONE WILL BE EQUALLY SATISFIED"
"America is here to be your friend and both nations will have great support in reaching an agreement," Senator Ron Johnson said at a news conference after the meeting with President of Serbia Aleksandar Vucic.
He said that instead of claims that America was exerting pressure, he would use the expression of support for Serbia and Kosovo, by which they want to give room to the two nations to decide for themselves what the agreement will be like.
"And at the end of the process, we will support an agreement between them," Johnson said.
He said the US understands that every person wants to live and raise their family in peace and stability and that the country is making economic progress, while America wants to encourage Serbia and Kosovo to resolve contentious issues, but that there is no solution where something is added and then subtracted elsewhere.
"It's likely not everyone will be equally satisfied," Johnson said.
He stressed that the US supports the Serbian people and that they want deeper economic and political cooperation with Serbia.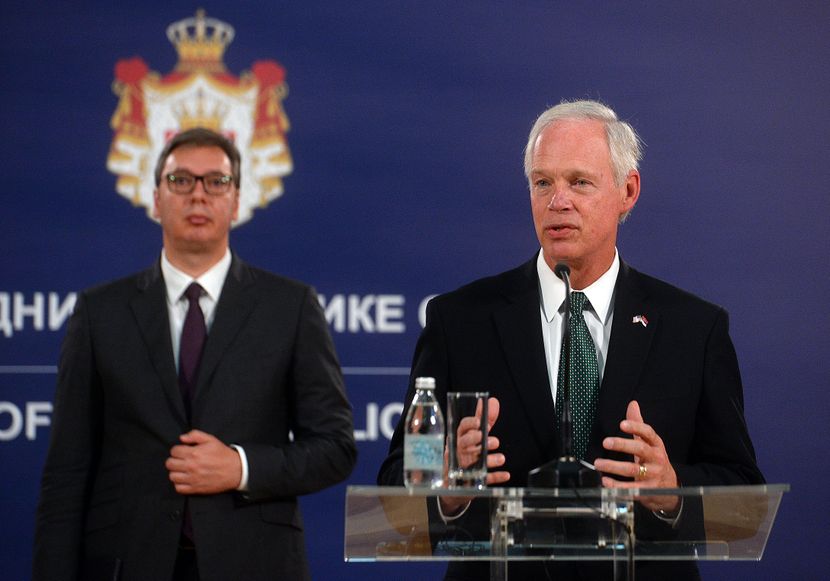 "REPUBLICANS AND DEMOCRATS AGREE IN SUPPORTING SERBIAN PEOPLE"
Senator Chris Murphy said that resolving the Kosovo issue requires a major compromise and can only be done if sacrifices are made by both sides.
Murphy, who previously visited Pristina with his Republican colleague Ron Johnson, before meeting today in Belgrade with Serbian President Aleksandar Vucic, expressed his hope that after the parliamentary elections, Albanians would also take steps to continue the dialogue.
"The US stands with Serbia and wants a stronger partnership with Serbia," US Senator Chris Murphy said today.
After talking with President Vucic, Murphy also told reporters that he hoped to influence President Donald Trump in this regard, but also his colleagues to come to Serbia and witness its progress.
"We came to convey a very clear message that both Democrats and Republicans in the US Congress stand with Serbia and that they want a stronger partnership with your country," Murphy said.
Murphy said there are many issues on which Democrats and Republicans disagree in Washington, but that they agree in supporting the Serbian people.
"We are in favor of a stronger economic partnership between the two nations," said this senator.
Our two countries, he said, can strengthen partnership for more America investments, but also for us in the US to have more Serbian goods.
"The best way to advance our economic partnership is to make sure to continue Serbia's path to the EU, and dialogue is the main vehicle for that," said Murphy.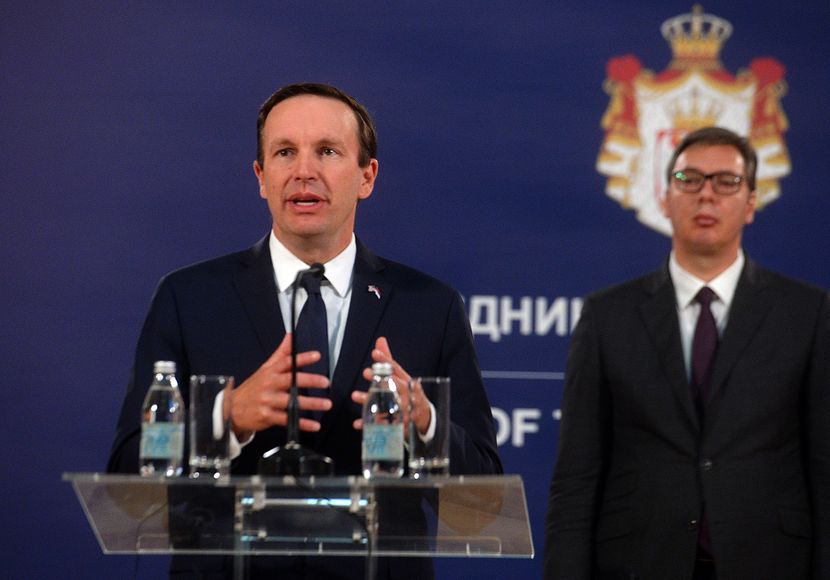 Responding to journalists' questions, Vucic said that unless a compromise is reached, Serbia cannot recognize Kosovo's independence.
"Our position is not easy at all... Albanians expect to get confirmation of what they think they completely received. And they are unwilling to agree to anything less because they don't want to admit that they will never be a consolidated state without Serbia. Of course the biggest pressure will be on Serbia. But Serbia cannot recognize independence unless a compromise is reached. And there's no great philosophy here. And whoever likes to can torment us," Vucic said at the news conference.
The press conference was preceded by the meeting, which was also attended by US Ambassador to Serbia Kyle Scott and Foreign Minister Ivica Dacic.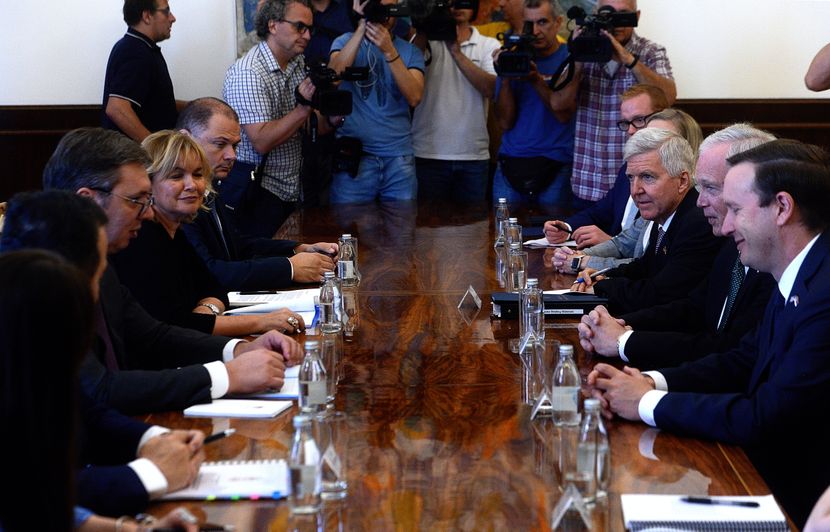 Two days ago, the senators were in Pristina, stating that sacrifice and compromise on both sides would be needed to make the dialogue successful, but that the consequences would be positive.
Johnson, a Republican and a businessman from Wisconsin who entered the Washington political scene less than a decade ago, is a member of the Foreign Affairs Committee and chairman of the Subcommittee on Europe and Regional Security Cooperation, and of the Senate Committee on Homeland Security and Governmental Affairs.
He is considered to be one of Trump's key men entrusted with special missions, who has visited the region in the past.
(Telegraf.rs)