Taxi drivers to continue and radicalize protests in Belgrade: Blockade of bridges announced!
The protest will start at the same time, at noon, and last until 3 pm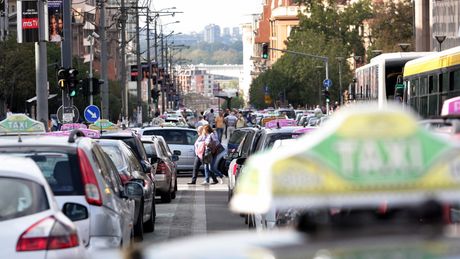 Foto: Tanjug/Sava Radovanović
Taxi drivers ended their third protest in Belgrade today, but also announced a radicalization - a blockade of the city's bridges.
This can be expected tomorrow (Thursday) and the day after, when taxi drivers announced the continuation of their protests.
The president of the Status Taxi Association, Aleksandar Bijelic, said that dissatisfied taxi services would continue to protest on Thursday and Friday, but would not block the capital during the weekend.
He stressed that they would continue the protests until their demands are met - that is, until the CarGo (ride sharing service) is sanctioned, and the law obeyed in this way.
Bijelic also said there was nothing to negotiate with Prime Minister Ana Brnabic - because they had been "talking for 11 months."
"There's nothing to negotiate," he said.
Belgrade taxi drivers are dissatisfied with the implementation of the Law on Transport of Passengers, that is, with inspectors and the Communal police allegedly failing to remove and punish illegal taxi services.

Today, the protest gathering began at noon in four locations - Obrenovac Road (Cukarica), Block 70 (New Belgrade), the former Pionir Hall (Palilula) and Kumodraska Street (Vozdovac).
Taxi drivers blocked the corner of Nemanjina and Kneza Milosa Street near the Serbian government building, dispersing after 3 pm and announcing a radicalization of the protests unless their demands are met.
Video:

Belgrade is blocked by taxi drivers for a third day in a row
Video:

Clash at the taxi drivers protest
(Telegraf.rs/Vecernje Novosti)