Noted PhD from Belgrade, completely drunk, shoots at wife in front of kids; she jumps from terrace
The unfortunate O.A., the wife of Ognjen A., was only spared from certain death by the fact Ognjen was so drunk he could not aim well enough to hit her. The drama took place on January 5, after a brief altercation between the spouses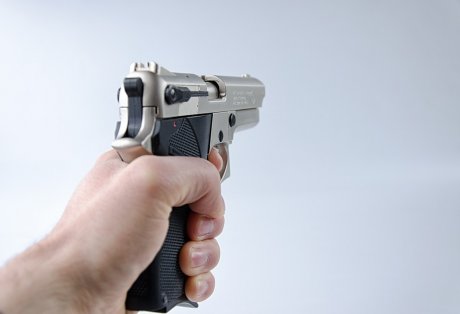 Ognjen A., 51, who has been arrested on suspicion of attempting to murder his wife in their Belgrade apartment by shooting at her from a pistol, in front of their underage children, holds a PhD and is an inventor who in the past appeared on television and gave interviews to various global media, the daily Blic has learned.
The unfortunate O.A., the wife of Ognjen A., was only spared from certain death by the fact Ognjen was so drunk he could not aim well enough to hit her. The drama took place on January 5, after a brief altercation between the spouses in an apartment in Jevrema Grujica Street in Belgrade. Ognjen at one point produced one of the three guns he held illegally, and fired at O.A.
While trying to escape from her raging husband, the unfortunate woman jumped out through the terrace, while he continued to chase her firing shots at her the middle of the street. Fortunately, he missed both times.
When the police arrested him they found three pistols, a silencer, ammunition of various calibers and shell casings.
What makes the case all the more bizarre is that Ognjen A. is a respected PhD and inventor who has appeared on numerous television programs to speak about a patent of his.
Ognjen A. was born in Sarajevo, Bosnia-Herzegovina, while he studied in Germany and Moscow. For the past 19 years he was reportedly working on discovering sporting talent. He has even appeared in BBC documentaries, and complained to the domestic media that his achievements were not sufficiently promoted in this country.
It seems likely that in addition to this he was also collecting weapons, which have been found in his apartment after the attack on his wife.
The wife, meanwhile, is a Swiss national - it is assumed that they met while he lived in that country working as a manager in a company. As we have learned, they recently moved to the elite part of Belgrade where the incident happened.
This PhD holder and abuser has been remanded in custody for up to 30 days.
Video: Never before seen recording of Maja and Mihajlo, killed in the Rakovica Social Welfare Center
(Telegraf.rs/Blic)
Pošaljite nam Vaše snimke, fotografije i priče na broj telefona +381 64 8939257 (WhatsApp / Viber / Telegram).