Haradinaj and Veseli asking Kurti not to abolish taxes on goods from Serbia
Don't give up because of some temporary points you can get from the international community - Haradinaj said on Facebook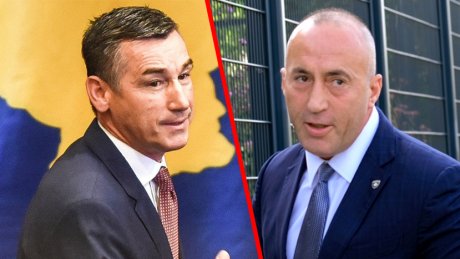 Foto: Profimedia, Tanjug/AP/Michael Corder
Former Prime Minister of so-called Kosovo Ramush Haradinaj has sent an open letter to the new Prime Minister of temporary Pristina institutions Albin Kurti asking him not to abolish taxes on goods from Serbia and Bosnia and Herzegovina until the independence of so-called Kosovo is recognized. The president of the opposition Democratic Party of Kosovo (DPK), Kadri Veseli, also asked this of the new prime minister of the provisional institutions.
He addressed the leader of Self-Determination via Facebook and said he was personally pleading with him not to abolish taxes on goods from Serbia.
Among other things, in his letter, Haradinaj urges Kurti not to allow "Serbia to win a market of over 400 million euros" and "not to camouflage this sovereign decision with vague terms such as 'reciprocity'."
"Do not abolish the tax. Don't give up because of some temporary points you can get from the international community," the letter said.
In the end, Haradinaj asks Kurti to "be together against Serbia until mutual recognition, not mutual non-recognition," Haradinaj said on Facebook.
Veseli wrote on his Facebook profile that there are concerns about Kurti's alleged "excessive rush to meet Serbia's demands."
"The new government should not surrender to Serbia at the moment when it faces major challenges and decisions awaiting Kosovo," said Veseli, who is a former parliament speaker in the previous authorities, who he at one point called for a three-month suspension of taxes to kick-start the dialogue.
(Telegraf.rs/Beta)