10 kilometer long columns of cars and hours of waiting at Bajakovo crossing on Croatia-Serbia border
From the direction of Serbia, there are no traffic jams at all at Batrovci, the Serbian side of the same crossing
At the entrance to Serbia from the direction of Croatia, at the Bajakovo border crossing, a column of vehicles has formed that is over 10 kilometers long.
"Passenger cars wait more than an hour, and freight vehicles for several hours. I am currently at the column's 7th kilometer, and a line of vehicles has also formed behind me," one of the drivers who is waiting to enter Serbia has told RINA.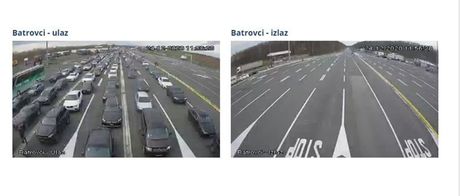 Footage from security cameras shows that there is a big traffic jam only at the entrance to Serbia, while there is none at all from the other direction, at the Batrovci border crossing.
(Telegraf.rs)
Telegraf.rs zadržava sva prava nad sadržajem. Za preuzimanje sadržaja pogledajte uputstva na stranici Uslovi korišćenja.