Nikola (25) came to a life-changing and life-saving decision, he gave his friend Luka his kidney and part of the liver. The doctor said: One out of 10 dies, are you ready for this? (PHOTO)
Luka is my friend, we are the same age, I couldn't look at him anymore and the way he was struggling - said the hero Nikola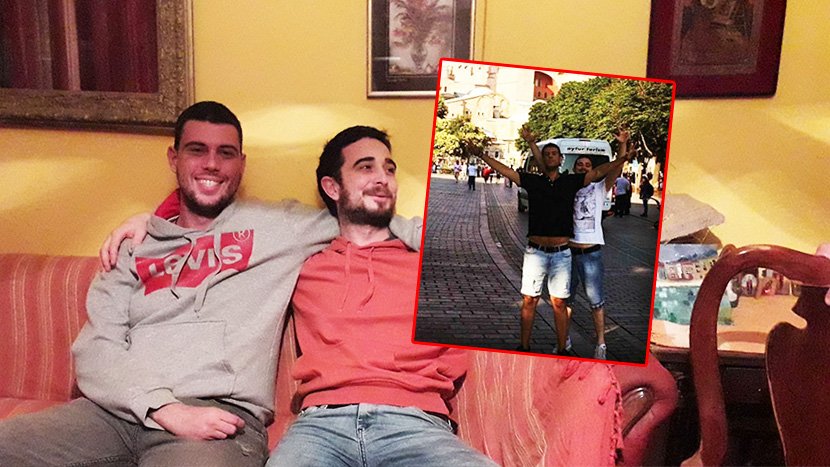 Nikola Subasic was born in the war year 1993, and he was the only baby in Glamoc in Bosnia and Herzegovina. Luka Vasiljevic came onto this world in 1994 in Visegradska Hospital, with many other babies from Belgrade. Many years later, life has made those two boys into best friends, and precisely that boy from Glamoc, he gave his kidney and half of his liver to the boy from Belgrade - he saved his life. 
Kaca is a real hero, after the fatal accident, she remained paralyzed: And now, she will compete on the World Cup in swimming (PHOTO)
That is both beautiful and terrible story about friendship, courage, and incredible sacrifice, it began in 2017.
"Luke has liver cirrhosis. His kidneys are stopping, his life was reduced to dialysis."
While she remembers the terrible dialysis which was given to his son two years ago, the eyes of mother Jelena become watery, but she doesn't cry for a moment.
" I couldn't look at him anymore and the way he was struggling" Luka has an inborn lack of an alpha 1 antitrypsin enzyme, which can cause problems either with the lungs or with the liver. Jelena and her husband, who also have this, but never had any problems, hoped that it will be the same with their child.
However, when life drew the cards, Vasiljevic family were left to destiny. The only hope for Luka's recovery was a kidney and a liver transplant, and that was the moment when even your closest relatives step away and become silent. 
The situation was even worse since the parents couldn't be the donor - Jelena was blood type AB, her husband A, Jelena's sister was also AB, and Luka was B. A spark of hope was born when the niece Bojana (31) called from Egypt, convinced that she was fit, but the results from laboratory quickly denied those claims. Luka's teacher wasn't a good match, who called right away, nor the friends Stefan Ilic and Stefan Corovic, and so, Luka was brought back to the beginning.
Until life has mixed things up, once again. The story then shifts towards Nikola Subasic (24), a young man who rents an apartment in the house of Vasiljevic with his brother. Nikola is a child of a refugee family. He has lost his father, and mother, sister, and two more brothers are living in Banja Luka. 
He came to Belgrade, looking for a better life. He became friends with Luka as soon as they met each other. At the time when Luka got sick, Nikola was working with the Youth co-operative in Zemun Hospital, so he watched Luka as he was struggling on dialysis.
- Luka is a good friend of mine, and I felt sorry seeing him struggling like that, going for dialysis... We are the same generation. U have watched him, he no longer had any time for himself, no activities, his life was reduced to the hospital - said Nikola.
"I immediately knew that I will give him both organs" He had no doubts. He went to the test and as soon as the results confirmed that they are compatible, Nikola knew that he will give his kidney and a piece of his liver to his friend.
- Of course, I had no doubts. We are talking about the life of my friend, there were no other options for me. I have chosen a solution that is not harmful to anyone, and it saves Luka's life - said Nikola in a calm voice, as if those things are happening each day. 
He still remembers the smile on Luka's face when he told him the good news.
- He was crushed, he sank. He saw no way out. And when I told him that I will give him the kidney and a part of the liver he laughed as he hasn't laughed for a long time. His whole face became bright. We both had strong faith that we can do it - said the humble young man.
The strength of Luka's will could be seen in the fact that he did research on his own and he found a hospital Acibademin Turkey which could do the double transplant right away, because those kinds of surgeries are not done in Serbia. Luka doesn't want to say much because, as he said, this should be the story about Nikola's bravery. 
"I was prepared for everything. Even for the worse"
But, the courage was needed in both of them for this battle. And Luka was prepared as well. He wasn't afraid, although his life was on the line each day.
- Somehow, I was prepared, I was ready for the worse - briefly said Luka, who never shed a tear despite being in terrible pain. 
They quickly accepted him at the Military Medical hospital for the procedure, but then there was another problem, to find 120.000 euros for the treatment.
Mother Jelena, with a lion heart, never let the things to the case. She followed the procedure, she first asked the Republic Health Insurance Fund, and when they refused her, she went straight to the Ministry of health.
- We were accepted by the state secretary Berislav Vekic and he gave us his word that he will find the money. He fulfilled everything that he has said. The entire treatment for Luka in Istanbul was paid by the state - said Jelena. They went on the road on July 1st of the last year. They were amazed in the Turkish hospital with Nikola's bravery. They never had the case that they had the donor of both organs being someone who is not related to the recipient.
"One out of 10 dies, are you ready for this?"
The doctor immediately told them what is the situation.
- He told Luka that one of those 10 patients die, and he responded: "I have no choice". Nikola was then told that one out of 1.000 dies, but that didn't stop Nikola. Then there were examinations with the ethical team, and then Nikola went to the psychologist to determine if he really wants to do that - remembers Jelena Vasiljevic.
Brave Nikola looked at all of that as procedures he must go through to reach the final goal. He never thought of quitting or giving up, nor he was afraid.
- Mother taught me to accept the responsibility for my actions, whether they are good or bad. This was a good decision because I knew it, and nothing could draw me away from it - said the brave young man.
The transplant was performed on July 20th. Everything was supposed to be finished then. However, when the doctors opened up Nikola, it turned out that his liver was smaller than the x-rays so they had to cut almost 70% of the liver. That is why they gave up from kidneys at that moment because that would jeopardize Nikola's life.
Jelena was equally worried for Nikola. After the transplant, Nikola had strong pains. He couldn't stand up for a long time, and the wound from the surgery was painful. Jelena was looking after him for day and night until he recovered.
But, Luka and Nikola weren't relieved. The series of complications followed. Bile started pouring out of Luka's stomach, so he was urgently transported to the hospital where he had another surgery and he was put on drainage. The doctor told him the worst part that he must go through - he is not allowed to eat for 35 days. - Whenever the doctor entered the room, Luka would ask if he can put something in his mouth, and the doctor would answer: Sabur, that means patience. That was superhuman patience, physical and superhuman fight - Jelena and Nikola said. 
It was like that until Luka had such a strong seizure that the doctors had to do a head scanner to see if there was damage to the brain.
- He was screaming so loud that the Turks gathered in the hallway of the hospital to see what was going on. They performed dialysis on three, instead of the two days, and that caused toxins to pile up in his body. When they placed him on 24-hour dialysis, and after 5 days of intensive care, he has lost 15 kilos, that is how much water and toxins left his body - said the mother Jelena.
After that, the doctor said: You can eat whatever you want, I will take care of everything during the next transplant.
Nikola was in Turkey, all of the time. Even when everything was under control, and when he could return to Belgrade for a few days, he didn't want to leave his friend. They have been living from July, until the end of December in the rented apartment near the hospital.
- We were called in November from the hospital and they told us that Nikola should come for lungs scan. We knew that it was it, there will finally be a kidney transplant. Nikola was happier than Luka. He has told me: We are going, we are finishing, and that's what happened - remembers Jelena.
Nikola was the first one to leave the operation room, and Luka left three hours after. The mother first looked at the catheter and it was full this time. The kidney started working right away on the operation table.
The recovery was also fast. Nikola had no pain this time, and Luka was reborn because he didn't have to go for dialysis anymore.
"They are alright now, they are fighting like brothers" 
They returned to Belgrade on December 24th. 
- They are alright now, they are fighting like brothers, Actually, Luka is fighting with Nikola, because Nikola is so good that he doesn't know how to fight - said Jelena proudly, she things that Nikola is like her own son. 
Nikola must be calm for six months, so he is currently not working in the hospital, and he probably won't return to that job.
- Now, when we are on the fresh start, we have a plan to get some loan and to start some business and to put Nikola in charge. And if it works, it works, we have been through the worst - adds Jelena.
Nikola said that he feels completely normal and healthy. He is not allowed to drink alcohol or soda, he must take care of his diet.
- Here, there are good sides when you are a donor. You start living healthy and you start caring about yourself- he said through a smile. And Luka? Luka said that he is reborn. He is putting his loyal friends on the first place: He is thanking his godfather Milos Vojkic, and Nikola's brother, Milorad Subasic, and his friend Nikola Jankovic, who waited to be donors if this wasn't successful. To his friends Stefan Ilic and Stefan Corovic who were with him all of the time. Luka said that he is especially grateful to Branko Babic, the friend of Luka's uncle Jovica Andjelic, who offered his financial help, although he doesn't know him, if the state refused to help. Mother Jelena is especially grateful for emotional and financial support of her sister Vesna and brother in law Jovica Andjelic, and they couldn't make it in Istanbul if it weren't for them, also gratitude to the family, Luka's friends and everybody who was with them all of this time.
Luka is not saying much, but when Nikola enters the room, everything shines with their smiles. 
I have been waiting for months on Nikola to accept to have a conversation. He told me briefly, over Jelena, that there would be no text if he hasn't donated his organs. However, Jelena found a way to convince him in the end.
Why did you change your mind, I asked him. 
- I want people to see that being a donor is not such a scary thing. I want our case to motivate everybody to do it - he said decisively.
If you ask Nikola, he will say that he did nothing special, because his immeasurable goodness reflects in that incredible modesty of a great man.
- We have gone apart. We are somehow living next to each other, instead of with each other - he concludes, adding that he can't wait to take Luka to visit his family in Banja Luka.
- Mother is thrilled and she is proud of me, and sister said "Luka is now our brother" and you have to bring him to meet him - said this young man and adds that they will all go on the trip together, with Jelena of course, as one big happy family.
VIDEO: The miracle boy: The doctors gave him only a few hours to live, and now he is 7 and he is waiting for the surgery that will change his life 
(Telegraf.co.uk / Miljana Leskovac / m.leskovac@telegraf.rs)
Telegraf.rs zadržava sva prava nad sadržajem. Za preuzimanje sadržaja pogledajte uputstva na stranici Uslovi korišćenja.