Putin's specialist against Trump's man: New clash because of Serbia
The Russian ambassador to Serbia responded to a statement made by the US senator We need to explain to the people of Kosovo and Serbia that an agreement, which they may not like, is in their best interest, said US Senator Ron Johnson, who visited both Belgrade and Pristina last week. Russia's ambassador to Serbia, Alexander Botsan-Kharchenko, known as President Vladimir Putin's "specialist" for this part of the world, has responded to this statement.
Johnson told Voice of America's Ukrainian service that it is up to the leaders in Belgrade and Pristina to decide whether they can reach an agreement.
"What I can say is that this is my fourth visit to the region, that I met with both presidents, President Vucic said during a joint press conference that this is the ninth time that we have met. I've been quite engaged on this issue for the past few years," said Senator Johnson.
According to him, both Pristina and Belgrade expect "greater American leadership" in the talks.
"I think we will offer it to them, but not in terms of imposing something and of pressure, but only in support of their efforts and in creating conditions under which they will be able to count on the support of the US and the EU once they reach an agreement," Johnson said.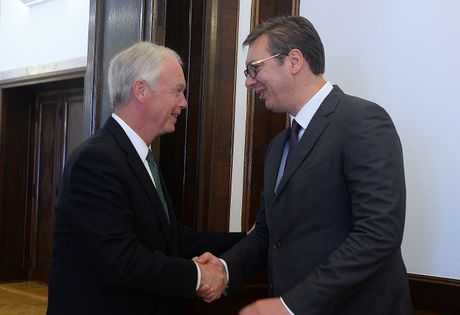 He added that it is necessary to point out to all citizens in Kosovo and Serbia "that an agreement is in their best interests and that it will be very beneficial in terms of further integration into the European economy, greater freedom of travel, a more successful economy, because once an agreement is reached it will be easier to attract foreign investments."
Johnson concluded by saying that this was the reason to overcome the deadlock, and emphasized that it was to some extent America's task and the task of the leaders "to sell citizens maybe not on a deal, because that might be difficult, but on its advantages and benefits."
Johnson, a Republican and businessman from Wisconsin who entered the Washington political scene less than a decade ago, is a member of the Foreign Affairs Committee and chairman of the Subcommittee on Europe and Regional Security Cooperation, as well as chairman of Senate Committee on Homeland Security and Governmental Affairs.
He is considered to be one of Trump's key people and a man in charge of special missions.
Russia's ambassador to Serbia, Alexander Botsn-Kharchenko, who is known as President Vladimir Putin's "specialist" for this part of the world, responded to Johnson's statement.
"It's surprising that there are people, even very influential ones like US Senator Ron Johnson, who know better than entire nations how they should live. Those times when nations were being explained to what was good for them, what was bad, what was unacceptable, are long gone to never return," Botsan-Kharchenko wrote on Twitter.
Зачуђује да постоје људи, чак и врло утицајни, попут америчког сенатора Рона Џонсона, који знају боље од читавих народа како треба да се живи. Време, када су народима објашњавали шта је за њих добро, шта је лоше, шта је неприхватљиво, већ давно je отишлo у неповрат.

— Александр Боцан-Харченко (@ABocanHarcenko) September 13, 2019
This is not the first time the Russian ambassador has used this social network to comment on statements made by US officials.
(Telegraf.rs)
Pošaljite nam Vaše snimke, fotografije i priče na broj telefona +381 64 8939257 (WhatsApp / Viber / Telegram).