The most important message after the Brussels meetings: What is the future of the Balkans?
Close cooperation between the countries of the Western Balkans even without the EU's support is needed, says Slobodan Zecevic, professor at the Institute for European Studies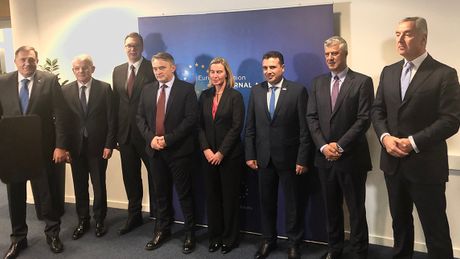 Foto: Tanjug/Marina Maksimović
The most important message after the meeting in Brussels and the working dinner that Serbian President Aleksandar Vucic and Western Balkan leaders had with Federica Mogherini is to turn toward ourselves, to increase regional exchange, trade and economy, the standard of living, Slobodan Zecevic, a professor at the Institute for European Studies has assessed - because, he says, it's obvious that the European Union does not have a clear concept around its enlargement.
"Close cooperation between the countries of the Western Balkans even without the EU's support is needed. A legally binding act that would allow faster flow and faster movement of people, goods, capital and services should be achieved," Zecevic told Tanjug.
Albania, North Macedonia and Serbia, he says, should be "the train engines" that pull other countries behind them, and later Bosnia and Herzegovina, Montenegro and maybe some others could join.
Zecevic believes that EU officials no longer have anything to promise and say, as shown by the example of North Macedonia and Albania, for whom the opening of EU accession negotiations has fallen through. "There were ideas that Serbia should be certain that that it would join the EU by 2025, but we can see that won't happen. We are a sovereign country that continues its European path, but, at the same time, as the president underlined, he wants to cooperate with China and Russia; (we're a country) that will, for example, be buying weapons where it's most favorable, where we have concrete cooperation," says Zecevic.
According to him, it is clear that the EU, unfortunately due to the confusion in its foreign policy, cannot have a single and unified policy that would be called a policy of the majority.
"France proposes that we intensify our regional cooperation, as well as that it's necessary to reform the Union and this process is therefore delayed in some way," he noted.
Specifically, in the case of Serbia, which is according to Zecevic integrated into the EU space in many segments and surrounded by member-states, this means that in the event of any crisis the EU would ask us to act as a full EU member, though we are not. But Zecevic points out that when Serbia's status is mentioned in the context of a partnership, it's not in line with its place that belongs to it in the EU.
"If someone tells you, you're a partner, it's possible to say that to Turkey, which has a different history and culture, but to say that to Serbia sounds pretty terrible," Zecevic remarked.
Asked which regional leader supported the regional initiative and a kind regional integration and in that way, as President Vucic said, surprised him, Zecevic said he had no information as to who that could be, but added that he "would like it to be Milo Djukanovic" - because "we need closest relations with Montenegro."
From the meeting in Ohrid on November 10, announced as the continuation of the meeting between the leaders of Serbia, North Macedonia and Albania that was held earlier this month in Novi Sad, he expects a written agreement in the form of an international treaty, that would make concrete that which has been agreed in Novi Sad.
(Telegraf.rs/Tanjug)