"If you want to live to hundred, don't sit in a coffee shop": The oldest mountaineer from Nis celebrated her birthday, and her words will hurt many
The body should be on the move, it's just one of the key tips of the long-lasting Jelena
Jelena Minardi from Nis celebrated her 100th birthday with the ones that she considers her family, members of the mountaineering association "Preslap", with whom she continues to cruise on tracks in the tenth decade of her life, proudly bearing the nickname the "Queen of the Peaks". As it goes for the people who love hiking, nature is great love for them, and the birthday celebration began in nature, at "Ada Geneva", near the river Nisava where the birthday barbeque was set and cakes were served.
Students from Serbia as an example: They sacrificed their weekend to return one of the city picnic spots to its former glory
The tough old lady said that mountaineering is the key for her 100th birthday and she has been doing it for 58 years.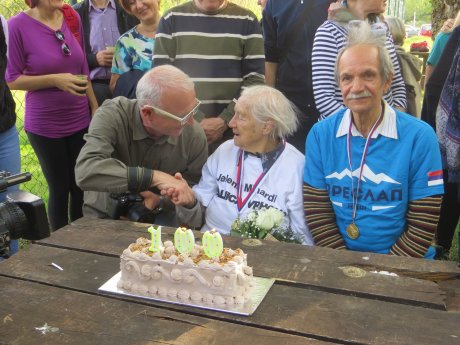 The body should be on the move, and the mountaineering is the ideal way for that. You should love mountains, because they will give you positive energy, it will refresh your lungs and it is clear that your brain will relax from all problems. You will be reborn on the mountain, I am listening to birds singing, I gather herbs, I make teas... - All of that gave me peace to survive all of these years - reveals Jelena the secret of her longevity.
She said that she is sorry for today's youth because they don't realize that they waste their free time in a way which is modern now.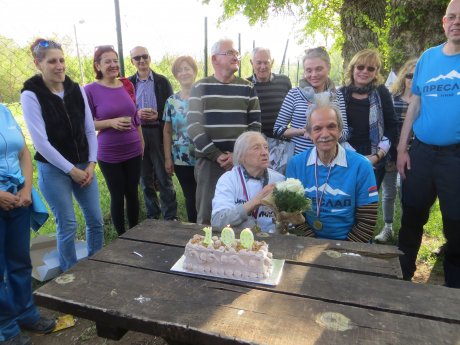 - If they want to live to 100, they shouldn't go to coffee shops and taverns, to look worryingly at drinks, but they should start hiking, trust me, they will always be happy. For that reason, I plan on continuing hiking, I can't walk like before, but I can go three, four kilometers... When I am with my mountaineers I forget about my age and the sickness and I am proud of being their legend. They adore me, so they made a party for my birthday - said the old lady who traveled around the world.
In accordance with the birthday ritual, she made a wish and blew the candles on the cake. When asked by a friend, she revealed what she wished for her birthday.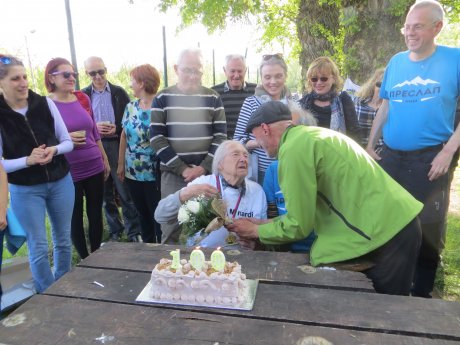 - I would like to go to Radan mountain one more time, I have climbed many of them but this one is somehow most attracting to me. I would like to go there one more time with my mountaineers - said the "Queen of the Peaks". Her son Slobodan (66) is following her in her feats.
The organizer of the celebration, Miroslav Dokman, president of the mountaineering association "Preslap" said that Jelena is the pride of this organization.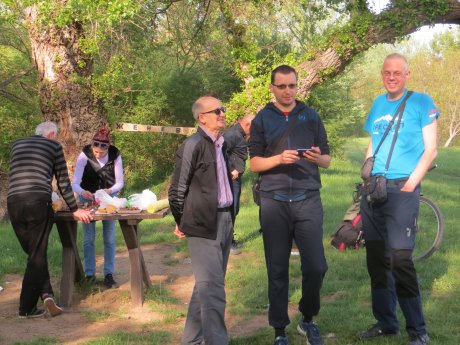 - She and her son are our honorary members, and I can say that Jelena is a unique person. It sounds incredible that she is not missing a single mountaineering action, she has been climbing the highest peak of Suva mountain, Trem, she can't do that anymore but she is able to walk for three, four kilometers at once. She and her son call us and they wonder when will there be some action, Jelena is holding motivational speeches and she is trying to send positive values to young people. She especially likes hiking around Sokobhanja where she was working when she was younger in education, and during the World War II she was a Partisan courier - he praises Jelena Dokman.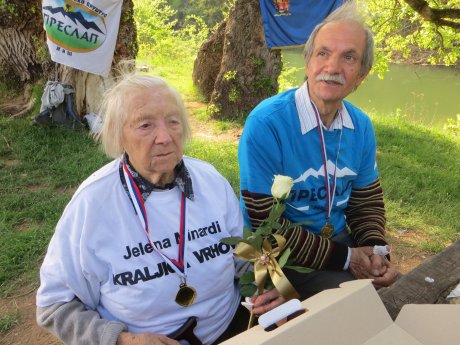 He adds that kind friendship was born with Jelena from the love for mountaineering.
- Not a day goes by without her calling us, we don't talk about mountaineering all the time, we talk about different things, literature, theater... Simply put, she is an indispensable part of every one of our lives - concludes Dokman.
VIDEO: Milan Kovacic celebrated his 99th birthday, and the main stars on the party were the ladies 
(Telegraf.co.uk / D. Kocic)
Telegraf.rs zadržava sva prava nad sadržajem. Za preuzimanje sadržaja pogledajte uputstva na stranici Uslovi korišćenja.